Letter from Old Wychwood Riser & Answer March 2007
Hi Steve,
In the history photos - demolition of farm house - I am the little girl in the Little Kingshill School uniform playing tennis against the wall!!!!!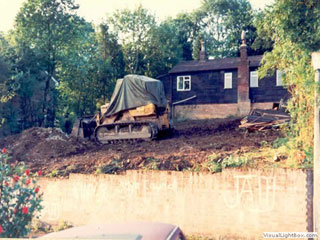 I was then called Jane Stephenson and I lived at house 41. We moved there in 1977/78 when I was 4 and moved to Leeds in 1986. My Dad purchased the additional land for our garden when the field organisation was created.
I now live in Basingstoke with my husband and daughter and about 2 years ago I took him to see our house and the field which held so many great memories. We called in on Geoff and Pearl Ling as they lived opposite us and shared a few stories. I believe many of the families who lived there when we did have moved away - the Reddingtons, the Oppenheimers, the Manns, the Nix/Nicks, the Barrys, the Harris'.
Only being 11 when I left I have very few photographs of the BBQ & pig roasts, my parents have more, however, it is wonderful to see all the photographs you do have on the site.
Keep up the good work!!!
Jane.